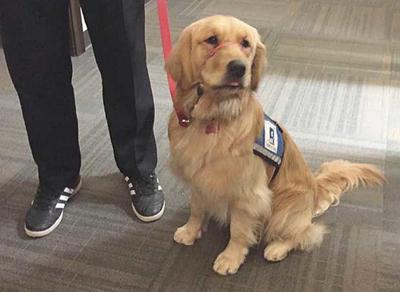 The Ramsey County Attorney's Office (RCAO) has joined the growing ranks of prosecutors' offices across the country to employ the services of specially trained facility dogs whose sole purpose is to provide quiet companionship to adults and children who are victims of and witnesses to crime.
Norie, a 2-year-old purebred golden retriever, received comprehensive training from Helping Paws Inc. of Hopkins, which is accredited by Assistance Dogs International. She lives and works with RCAO handler Bill Kubes, a victim/witness advocate.
"Crime victims, especially children, are often under unimaginable stress," said Ramsey County Attorney John Choi. "Participating in the adversarial court process can come at a high cost, and this program will make that process better for those who need the services of Norie."
Once a case has been charged by the county attorney, both victims and witnesses are offered the services of the RCAO Victim/Witness Division. Through work with the Minnesota Alliance on Crime, which helped develop the protocol, the RCAO determined in 2014 that a facility dog could greatly assist its work. Unlike service dogs who are trained to assist one individual, facility dogs can work with more than one handler.
"Norie is a highly trained facility dog with one primary purpose — putting victims of and witnesses to crime at ease so that they can better participate in the prosecution process and ease the natural tension that comes with a highly traumatic experience," said RCAO Victim/Witness Division Director Tami McConkey. "The return on this investment is immeasurable."
The RCAO will spend approximately $8,000 a year for the care, feeding, ongoing training and related costs of supporting a working facility dog. Nationally, 13 courthouses across the country have at least one assistance dog, including the Hennepin County Juvenile Justice Center. Nearly 60 prosecutors' offices and a handful of public defenders' offices have at least one dog onsite to provide similar services. Due to the generosity of Helping Paws, there were no initial costs to obtain Norie.
"We felt that Norie's skill set and temperament matched perfectly with the work and staff at the Ramsey County Attorney's Office," said Sue Kliewer, client services coordinator and instructor for Helping Paws. "We make sure that each of our trained dogs maintains certification for as long as they are placed at an agency."